The main focus of the show is for bikes built pre-1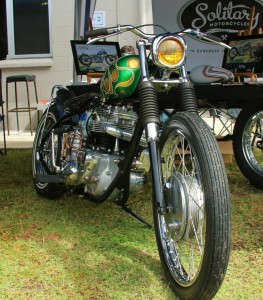 984.
Post '84 – We have added the 'Kustom' identifier to the title of the show, to allow the inclusion of post 1984 bikes, as long as their customizations are in line with the spirit of the show, ie: Era Specific Styling and preferably hand built – this judgement will be made by the show organizer – It's best to send thru an email with details and a photo prior to save on possible inconvenience on the day? Email: info@dlmaus.com.au
Bike Show: Saturday 26 August 2017 (Free Entry for Riders of Display Bikes)

* Bike Show registration Opens at 10:00am and Closes at 1pm. Preference is to have the bikes in prior to Midday in time for the visitor opening.* Bikes entered after midday will have to do so via alternate site road (Follow Directions of Traffic Controllers on property).
NOTE: Movement of entrant motorcycles whilst visitors are onsite (10am – 4pm) is preferred to NOT TO TAKE PLACE' ! If there is an urgent requirement for this to happen, it's to only be under the direction of a DL Crew Member..!
On the day there will be a good number of trophies on offer for the Bikes entered in to the show, and as was last year, we'll also end up with a bit of an Unofficial Display of tasty bikes in the parking area !
Trophies on offer:
* CHOPPER AWARD
* BOBBER AWARD
* CAFE' RACER AWARD
* CLASSIC AWARD (Original/Restored)
* COMPETITION AWARD – (Drag, Speedway, Dirt, etc)
* INNOVATIVE AWARD (Hand Built Construction)
* DIRTY LOVE AWARD (Organisers Pick)
* YOUNG ACHIEVER AWARD (Under 18)
Plus some "Sponsored Trophy's"
IMPORTANT NOTE: For Post '84 Bikes, It's 'a must' to send thru a submission/email prior, with an image/photo attached, to confirm with us, suitability and to also save you any potential inconvenience on the day.
" All bikes must be ridden (Motor running) in to the show display area ! "